The Council of Affiliated State Associations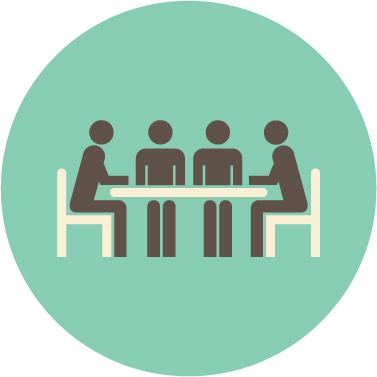 The Council of Affiliated State Associations (CASA) is an affiliate of NAPSEC. CASA members are state associations that represent private special education programs. They advocate for individuals with disabilities while working to shape state public policy and represent private special education program members at the state level.
NAPSEC's CASA members are committed to supporting improved advocacy and public policy development and provide critical insight to NAPSEC regarding how federal policy issues impact their membership. CASA provides a unique forum in which state associations can collaborate and remain engaged at the federal level.
CASA holds a voting position on the NAPSEC Board of Directors.
CALIFORNIA
California Alliance of Children and Family Services
Danielle Molé, Education Committee Representative
2210 K Street
Sacramento, CA 95816
Phone: (916) 449-2273, Fax: (916) 449-2294
Email:
dmole@cacfs.org
- Web:
www.cacfs.org
More than 140 chief executives of organizations that serve California's most vulnerable populations trust the California Alliance to provide legislative and regulatory advocacy to the governor and the Legislature, as well as a host of state departments including: Health and Human Services, Finance, Mental Health, Social Services, Education and Community Care Licensing. Visit the Online Placement Matching System at
www.cacfs.org/vacancies
California Association of Private Special Education Services (CAPSES)
Ryan Eisenberg
921 11th Street, Suite 501
Sacramento, CA 95815
Phone: (916) 447-7061
Email:
reisenberg@achievekids.org
- Web:
www.capses.com
CAPSES is comprised of nonpublic schools, agencies, organizations, and individuals who specialize in the delivery of private special education school services. Our mission is to promote the delivery of quality special education instruction and services in private and public education sectors.

CONNECTICUT
Connecticut Association of Private Special Education Facilities (CAPSEF)
701 Hebron Avenue, Third Floor
Glastonbury, Connecticut, 06033

Phone: (860) 525-1318
Email:
info@capsef.org
Web Site:
www.capsef.org
The Connecticut Association of Private Special Education Facilities is a voluntary association of private schools which provides quality, cost effective, special education and related services to the special needs of children and adolescents (birth to 21 years) of Connecticut. CAPSEF is really about our member schools. Our schools work collaboratively to brainstorm new and innovative ways to serve our students to maximize their success. Our professional development conference held every March, has become a favorite of many educators and those interested in how to best educate students with special needs. Our Membership Forums are designed to keep our 1 members up to date on various issues, challenges and successes in our very special schools serving a very special population. CAPSEF schools work with families, public schools, state agencies, other caretakers and providers to implement model programs, that enhances each student's ability to succeed while enabling caregivers to help children in need. The Association provides its members with a voice to represent interests to the State Department of Education, Bureau of Special Education, ConnCASE and other provider, legislative, and advocacy groups.

ILLINOIS
Illinois Association of Private Special Education Centers (IAPSEC)
Tom Dempsey
909East Wilmette Road, Suite F
Palatine, IL 60074
Phone: (847) 359-8300, Fax: (847) 359-8301
Email:
tdempsey@southcampus.net
Web Site:
www.iapsec.org
Association Focus
Management training, staff training, legal issues/monitoring and development, skills and knowledge/dissemination and training, and current issues/position papers.
Membership Benefits and Services
IAPSEC is the formal vehicle for dissemination of information and development of group position statements. Holds annual conference and several seminars through the year. IAPSEC was established in 1986.
Membership Procedures and Requirements
IAPSEC membership form is developed and available. IAPSEC by-laws are printed and available. Members agree to accept by-laws and pay annual membership fee based on the programs budget. IAPSEC has 63 members.
MARYLAND
Maryland Association of Nonpublic Special Education Facilities (MANSEF)
Dorie Flynn
P.O. Box 6815
6501 North Charles Street
Towson, MD 21285-6815
Phone: (410) 938-4413
Email:
mansef@aol.com
- Web Site:
www.mansef.org
The Maryland Association of Nonpublic Special Education Facilities (MANSEF) is an association of 70 nonpublic schools across Maryland approved by the Maryland State Department of Education. These schools provide specialized instruction for students with disabilities at no cost to the parent when referred by their local public school. To download our directory visit our website
www.mansef.org
.
MASSACHUSETTS
Massachusetts Association of 766 Approved Private Schools (MAAPS)
Elizabeth Dello Russo Becker

607 North Avenue, 15 Lakeside Office Park
Wakefield, MA 01880
Phone: (781) 245-1220
Email:
ebecker@maaps.org
- Web Site:
www.maaps.org
The Massachusetts Association of Approved Special Education Schools (MAAPS) was founded in 1978 as a statewide association of schools dedicated to providing educational programs and services to students with special needs, particularly students who require specialized education programs and services as guaranteed by Massachusetts General Laws Chapter 766. MAAPS represents over 80 member schools serving nearly 7,000 children with special needs from Massachusetts and other states and countries. MAAPS' mission is to represent private special education schools in their goal of providing the highest quality education to students with special needs.

NEW JERSEY
ASAH... Serving the Private Special Education Community Since 1974
John J. Mulholland, Jr.

Lexington Square Commons
2125 Route 33
Hamilton Square, NJ 08690
Phone: (609) 890-1400
Email:
info@asah.org
- Web Site:
www.asah.org
ASAH is a professional association serving New Jersey's private special education community since 1974. Our member programs educate thousands of infants, children and young adults with complex disabilities in a variety of settings. Together, our members represent the best that New Jersey special education has to offer.

VIRGINIA
Virginia Association of Independent Specialized Education Facilities (VAISEF)
William P. Elwood, Executive Director
823 East Main Street, Suite 1300, Richmond, VA 23219
Phone: (804) 643-2776
Email:
kids@vaisef.org
- Web Site:
www.vaisef.org
VAISEF is an association of Virginia private providers of specialized education and services for children and youth with special needs, and their families. Our mission is to enhance the capabilities of our members to provide quality specialized education and services by offering an accreditation process and by providing information, training, and networking opportunities; and to increase opportunities for members to provide services by advocating for a full continuum of services and by advocating for an increased role of the private sector, and by networking with state and local agencies.